Movies
Baywatch (2017)
I went into this movie knowing it was going to be pretty lame. I was expecting to laugh at some dumb humor, and that happened. There was a story-line that they went through with the Flocka and the criminals behind it, but it was done sloppily in between cheap genital jokes and every pretty boy pop culture reference that could be hurled at Zac Efron's character. I liked that there was a story, and that Efron's character was questioning why lifeguards should get involved with criminals. Did I laugh? Yes, sometimes. Was I done with penis jokes after the first ten minutes? Yes. Did they keep making them anyways?

Letter Grade: C- because it was predictably lame, but still on the funny-because-it's-cheesy-and-lame side.
Moana (2016)

Moana is on Netflix at last, and I was excited to watch it because it seemed like everyone loved it last year! I have to admit, I wasn't too impressed. The dumb chicken was funny, the little piggy was cute, and Moana was an inspiring, strong female lead. However, this was just a cookie-cutter Disney Princess film that has followed the exact same mold since Princess and the Frog (2009), or at least that's when I think this trend started. The trend I speak of is as follows: Girl with a mission finds male who can help her complete mission and they go on an adventure and hurtle some obstacles along the way. If you want to tell me that Tangled (2010), Frozen (2013) and Moana didn't all have these elements, plus the staple animal sidekicks (which they also all have) then fight me, because I'm right. I will say that I thought Maui's joke about Moana being a princess because she had animal sidekicks and whatnot was funny because it was the writers pretty much admitting to what I just said. I found this film to be all over the place, and the scene with the shiny evil crab guy was just so out there that the movie went down a few notches for me. Usually, I enjoy Disney movie-musicals, but Moana is not my favorite. Te animation was beautiful, very colorful and fun to look at, but everything else fell flat for me. My favorite song is probably "You're Welcome" and the one Lin Manuel Miranda sang that played a couple of times (idk the name of that one) because there was native language integrated into that song too.
Letter Grade: C+
Television
Victoria (PBS Masterpiece 2017)
I had been waiting to watch Victoria for quite a while because the first season aired while i was away at school. Thankfully, my mom saved them on the DVR at home for me and I binged it all this month! I didn't know what to expect going into Victoria, but I knew I would probably like it just because it's a historical drama. The performances by all in Victoria exceeded my expectations, I thought Jenna Coleman was a great choice to play the young queen and that the show as a whole was very well done. My only complaint was that it seemed like Victoria went from hating Prince Albert to immediately being madly in love with him, but it's not terrible because I loved their relationship throughout the second half of the series. Even the side characters had some interesting plots, kind of like the Downton Abbey characters did. That's probably why I loved it so much too, this show properly filled in the gap of Downton Abbey that has been empty for a couple of years now. It's similar, but not at all the same because Victoria takes place over a century before Downton did. I love English culture as well, and I visited a few of the landmarks shown on the show last year while studying abroad (Marble Arch, Buckingham Palace, and also the Prince Albert Memorial which has yet to be made in the show obviously) so it was cool to see them in place in a historical setting and put into perspective just how old those landmarks actually are.  I look forward to the next series which will probably air early next year on PBS.
Letter Grade: A
Call the Midwife Season 6 (PBS 2017)
I have been watching this series for years with my mom and we just recently finished watching the new season off our DVR. I will always love this show, even as the cast grows and changes, because the writing is always beautiful. Every episode brings you on an emotional roller-coaster, but leaves me feeling all warm and fuzzy inside because they never end negatively. Definitely check this series out if you haven't already (and if you aren't too squeamish because there is a large focus on childbirth), every season except for the most recent one is out on Netflix in the US!
Letter Grade: A
Books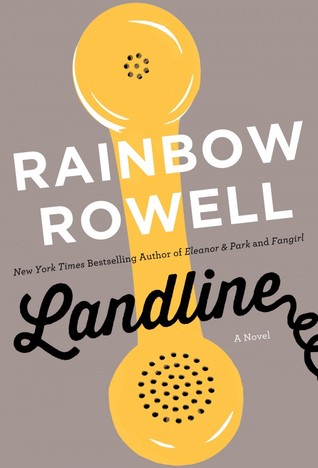 Lord of Shadows by Cassandra Clare
My review is up now! Check it out and see what I thought about the newest Shadowhunter installment. Obviously, I loved it, but there's so much more to discuss!
5 stars
Landline by Rainbow Rowell
I have a review up for this one too, so hit it up for more of my thoughts. I really enjoyed Landline, just like I've enjoyed everything else I have read by Rainbow Rowell so far! I need to get more of her books soon. Let me know what you favorite Rainbow Rowell books are in the comments!
5 Stars
Empire of Dust by Eleanor Herman
I am super grateful that I was contacted by Glasstown Entertainment to read Reign of Serpents and do a blog tour post for Eleanor Herman's new book! I read Legacy of Kings when it came out a few years back because I got the paperback ARC from work (B&N). I thought it was a really interesting concept and story, so naturally I wanted to know what happened next. I read both Empire of Dust so I could prepare for the Q&A with Eleanor!
4 stars