WWW Wednesday is a meme hosted by Sam @Taking on a World of Words.
I'm on spring break woooooo! And what do I do but sit on my butt in my sister's apartment reading books, blogging, and watching television. No regrets. I have gotten a bit of reading done in the past month despite my busy schedule thanks to my giant collection of ebooks!
What am I currently reading?
Behemoth by Scott Westerfeld
---
The behemoth is the fiercest creature in the British navy. It can swallow enemy battleships with one bite. The Darwinists will need it, now that they are at war with the Clanker powers.
Deryn is a girl posing as a boy in the British Air Service, and Alek is the heir to an empire posing as a commoner. Finally together aboard the airship Leviathan, they hope to bring the war to a halt. But when disaster strikes the Leviathan's peacekeeping mission, they find themselves alone and hunted in enemy territory.
Alek and Deryn will need great skill, new allies, and brave hearts to face what's ahead. (Goodreads)
---
I recently finished Leviathan and I already owned the rest of the series on ebook so theres no reason not to continue with that now 🙂
What did I finish reading recently?
The Hundred Lies of Lizzie Lovett by Chelsea Sedoti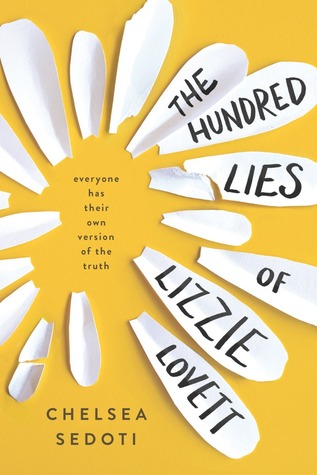 ---
A teenage misfit named Hawthorn Creely inserts herself in the investigation of missing person Lizzie Lovett, who disappeared mysteriously while camping with her boyfriend. Hawthorn doesn't mean to interfere, but she has a pretty crazy theory about what happened to Lizzie. In order to prove it, she decides to immerse herself in Lizzie's life. That includes taking her job… and her boyfriend. It's a huge risk — but it's just what Hawthorn needs to find her own place in the world. (Goodreads)
---
I literally finished reading this one last night so my review is written and will be up next Monday! I really like this novel and I flew through it in about 4 or 5 days so that's saying something with how slow I usually read. I just couldn't put Hawthorn's story away!
What do I plan on reading next?
The You I've Never Known by Ellen Hopkins
---
How do you live your life if your past is based on a lie? A new novel in both verse and prose from #1 New York Times bestselling author, Ellen Hopkins.
For as long as she can remember, it's been just Ariel and Dad. Ariel's mom disappeared when she was a baby. Dad says home is wherever the two of them are, but Ariel is now seventeen and after years of new apartments, new schools, and new faces, all she wants is to put down some roots. Complicating things are Monica and Gabe, both of whom have stirred a different kind of desire.
Maya's a teenager who's run from an abusive mother right into the arms of an older man she thinks she can trust. But now she's isolated with a baby on the way, and life's getting more complicated than Maya ever could have imagined.
Ariel and Maya's lives collide unexpectedly when Ariel's mother shows up out of the blue with wild accusations: Ariel wasn't abandoned. Her father kidnapped her fourteen years ago.
What is Ariel supposed to believe? Is it possible Dad's woven her entire history into a tapestry of lies? How can she choose between the mother she's been taught to mistrust and the father who has taken care of her all these years?
In bestselling author Ellen Hopkins's deft hands, Ariel's emotionally charged journey to find out the truth of who she really is balances beautifully with Maya's story of loss and redemption. This is a memorable portrait of two young women trying to make sense of their lives and coming face to face with themselves—for both the last and the very first time. (Goodreads)
---
I have always heard great things about Ellen Hopkins' books so when I found this new one on Edelweiss I HAD to request it! I'm excited to finally read one of her books because I know they're written in a different style than I'm used to and usually have dark themes. That's kind of why I'm using Behemoth as a buffer between Lizzie Lovett and this one because the latter was also a bit dark.
What are you reading right now?
Katie x