I said I would try to do this monthly, so here's me keeping that promise! WWW Wednesday is a meme hosted by Sam @Taking on a World of Words.
I read a few books in January so winter break was quite a success for me reading-wise. I can't make the same guarantee for February since school is in full swing and I'm reading ebooks on my phone now (I didn't bring any physical books from home because I never end up reading them all out here), but I do have some hope for at least reading a book or two this month! I am not writing any of these summaries, I take them from Goodreads 🙂
What am I currently reading?

The Girl From Old Nichol by Betty Annand
Born into extreme poverty in the London slums, young Gladys Tunner strives to survive her circumstances, including her alcoholic parents. Desperation and dreams for a better life are constant. Her childhood best friend and protector, Toughie, looks after her until she's forced to escape into the English countryside, creating an elaborate masquerade that leads to both love and heartbreak.
Under a new identity, Gladys finds work at an inn, first as a housemaid, then later as a barmaid. She gains a dear friend and, eventually, two well-off suitors to choose from. Once married, Gladys enjoys a life of privilege she'd only dared to dream of. But shortly after the birth of her daughter, disaster strikes when Gladys learns that her beloved husband has been killed. With his death, Gladys begins to rely on her new family, but misfortune continues to plague her. Can she survive the capricious hand of fate with her masquerade intact, or will she die as she began, a pauper in the worst of London's slums?
This rich and compelling novel is a story of true love and longing, both for a new future and the memories of the past. You'll hope the best for Gladys, no matter which path she takes.
---
I am currently reading The Girl from Old Nichol by Betty Annand. I am really into historical fiction right now, and I really like books set in England, so if you're like me, you'll probably like this book too! I'm reading this as an eARC because I got it from Edelwiess last year, but the book has already been out in stores for about a month now. I'm getting a sort of Maggie A Girl of the Streets by Stephen Crane vibe, except I hope Gladys' story has a happier ending than Maggie's did.
What did I finish reading recently?

Anna and the French Kiss by Stephanie Perkins
Can Anna find love in the City of Light?
Anna is happy in Atlanta. She has a loyal best friend and a crush on her coworker at the movie theater, who is just starting to return her affection. So she's less than thrilled when her father decides to send her to a boarding school in Paris for her senior year.
But despite not speaking a word of French, Anna meets some cool new people, including the handsome Étienne St. Clair, who quickly becomes her best friend. Unfortunately, he's taken —and Anna might be, too. Will a year of romantic near misses end with the French kiss she's waiting for?
---
I really liked this novel, and I have a full review going up in two weeks so keep an eye out if you'd like to read about what I thought!
What do I plan on reading next?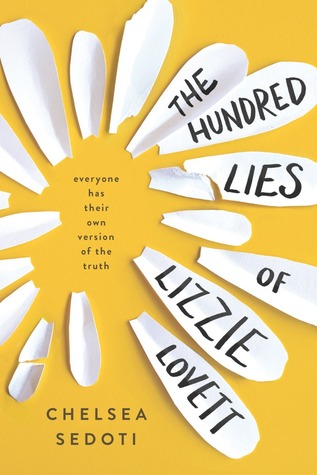 The Hundred Lies of Lizzie Lovett by Chelsea Sedoti
A teenage misfit named Hawthorn Creely inserts herself in the investigation of missing person Lizzie Lovett, who disappeared mysteriously while camping with her boyfriend. Hawthorn doesn't mean to interfere, but she has a pretty crazy theory about what happened to Lizzie. In order to prove it, she decides to immerse herself in Lizzie's life. That includes taking her job… and her boyfriend. It's a huge risk — but it's just what Hawthorn needs to find her own place in the world.
---
I am super excited to read this book! I have heard some buzz about it from BookTubers and it has a pretty good rating on Goodreads already so when I saw that I could request and e-copy from NetGalley, I just had to put in a request!
What are you reading right now?
Katie x